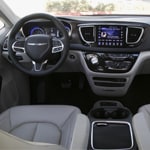 The Chrysler Pacifica is a perfect choice if you are looking for a minivan. It has a variety of exterior and interior features that will catch your eye. It also has performance features that will make your ride go a lot more smoothly. This vehicle has standard electronic stability control.
This is one of the features that will help you stay in control of your vehicle. It will apply throttle and braking if necessary. The purpose of this feature is to help you maintain directional control. Trailer towing is another feature that will make your life more convenient.
You will be able to tow up to 3,500 pounds. It is great if you plan on moving in the near future. You may be able to use your van instead of renting a moving truck. If you need to test drive the Chrysler Pacifica, then you will need to visit our dealership.